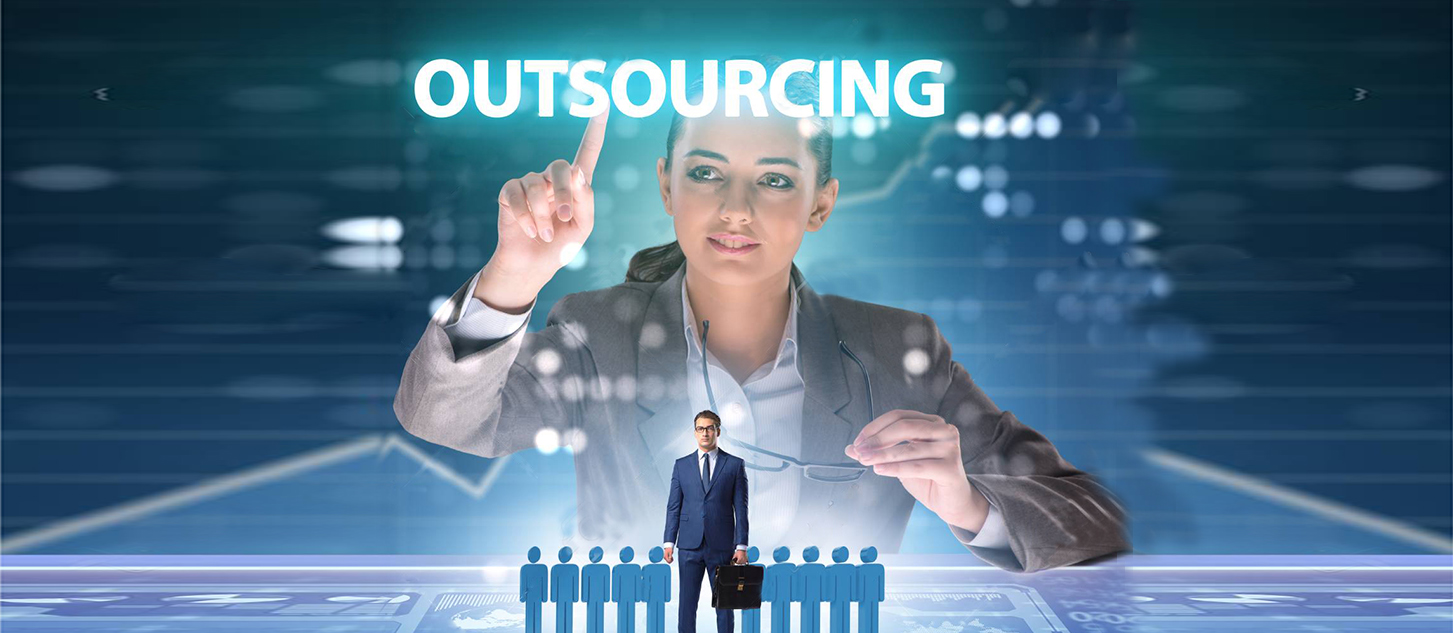 Outsourcing is when an organisation hires an independent HR agency outside its firm to fulfil their HR needs and requirements as and when necessary at an agreed price. More and more companies have started to realize the benefits of HR outsourcing. Previously, cost-effectiveness was the key factor for employee outsourcing in the UAE. However, at present, outsourcing is viewed as a corporate strategic decision that has countless significant benefits.
Ultimate HR Solutions is one of the leading HR outsourcing companies in Dubai and Abu Dhabi. Our edge is our deep understanding of the local culture, market economics, employment laws, the legal framework and global sourcing strength. We provide bespoke solutions for our clients with complete transparency, commitment and dedication. We take care of everything – right from sourcing the right candidates to managing their visa and other legalities for a smooth onboarding. We also offer payroll management services, taking care of all the administrative hassles thereby saving our clients time, improving productivity and cost-efficiency.
We have been recognised by our clients for providing 'Quality on-demand service' through our unique process-driven approach and superior operational efficiency. We promise a 24-hour turn-around time for all requests thereby making us the best HR outsourcing company in the UAE.
Today, With over 30,000 employees outsourced and contracted in the last 20 years, and over 3000+ currently active employees on our payroll and visa but outsourced to work with over 75 + clients, we can proudly say that we are one the one of the most reliable and trustworthy recruitment agencies in the UAE.
Top reasons for Outsourcing UAE
• Time efficiency and cost-effectiveness
• Improve company's focus
• Share risk and investment with the vendor/partner
• No visa quotas
• Gain access to experienced HR employees and infrastructure of the vendor
• Save on recruitment cost
• Improve Quality
• Conserve Capital
• HR Consultancy
• Increase speed to market and ensure business continuity
• Foster Innovation
Top business functions covered through outsourcing
• Call Centre Operations
• Back Office Operations
• Direct Sales
• Retail Sales
• Credit Collections
• HR & Administration
• Procurement
• IT Operations
• Drivers
• Servers, Waiters and Caterers
Benefits of HR Outsourcing through Ultimate HR Solutions
• One of the few UAE compliant employee outsourcing and contract staffing providers with offices in Dubai and Abu Dhabi
• ISO 9001: 2008 Certified
• 100% Emirati-owned and managed
• Deep understanding of the UAE market, local economy, laws and regulations
• Large database of active candidates and well-connected with candidate outsourcing markets
• Flexibility to provide turnkey or customised solutions as per client's requirements
• Quick turnaround time – The best in the market
o Visa issued and employee deployed within 5 working days
o Offer letter rolled out same day
o 100 % salaries on time
• 24 x 7 x 365 customer support
• Well- established reputation for their quality, transparency and operational efficiency in administering its HR services
• Over 60 years of collective experience in the HR industry
• Experience specialists with rich category experience for diverse sectors
• Proven track record with over 30,000 employees outsourced to a wide spectrum of industries
• Independent teams working on outsourcing / contracting and recruitment respectively
• Highly competitive pricing
• World-class clientele
Partial List of Outsourcing Services offered by Ultimate HR Solutions
Talent Acquisition
A client can choose to recruit a candidate on their payroll or ours. Our highly specialized recruitment team outsourced will help identify top-quality talent with the right skill sets at the most competitive rates. Our team can even arrange and conduct large walk-ins in our centrally located offices in Dubai and Abu Dhabi. We have successfully executed several recruitment drives and recruited over 150+ employees for our clients within a short span of time from the local and international markets. Besides, We have also provided HR consultancy, appropriate skill training and career guidance to numerous employees in the UAE on a regular basis.
Offer Letter and Induction
At Ultimate HR Solutions, we create UAE compliant offer letters according to our client's requirement and specification. In addition, our dedicated relationship managers conduct customised inductions and/or training for all its new employees in accordance with our client's need.
Reference checks and Police Clearances
All employees hired by us, whether for in-house or third-party contract staffing, undergoes a stringent screening and background checks are conducted for the last five years of their employment. Screening includes educational verification, and attestation and/or verbal/written references checks from previous employers. Any gaps in employment are identified and proper references are cited for the same. All employees hired by UHRS who have been in the UAE for more than 6 months, have to provide a character certificate from the Dubai police. We ensure that only those employees who have completed reference checks and police clearances are eligible to join our client organisations.
Visa Processing
Once the offer letter is signed and references are etc. have been cleared, we ensure timely processing of labour approvals and visa through the automated systems in our office. We maintain a sufficient quota of pre-approved visas so that at any required time we can process those visas as per our client's requirement. In addition, we constantly monitor our TATs for labour approvals, visa stampings and conducting medicals to ensure we offer the most efficient services as per the industry norms and standards. Whether it is visa processing in Dubai or in Abu Dhabi, following is the checklist that our visa-team completes for all employees that are on-board at UHRS:
• Applying for Initial application
• Applying for labour approval
• Immigration fee and visa processing fee for inside/ outside visa processing Dubai
• Applying for Emirates ID
• Completing medical formalities
• Visa stamping
• Visa deposit at the airport
• Airport pick-up and drop facility
• Conducting Ok-to-board
• Arranging hotel accommodation and ticket bookings
• Assisting employees with family visas
• Assisting employees in seeking accommodation.
• Orientation of new employees to Dubai, Abu Dhabi, and Sharjah, etc.
Payroll Processing
Our automated payroll solution offers a complete ERP solution to our clients and our ISO-certified payroll team handles the complete processes such as producing payroll information, preparing payroll registers and periodic payroll reports in the most confidential, automated and efficient way. This way our clients can focus on their core business while we take care of their administrative hassles, saving them time and helping them increase their productivity and profitability.
Recently we have updated our systems on cloud-based solutions to 1) provide access to our clients of their active outsourced employees and their pipelines for new hires and 2) provide access to our employees to obtain their confidential information like passport copies, labour card copies, payslips, NOCs securely and also to apply for leaves through our ERP solution. Our payroll team ensures that all employees accounts are opened and salaries are transferred through WPS as per the UAE labour law each month.
Employee services / Exit formalities
As an HR company, we take pride in ensuring the exceptional service that we provide not only to our clients but also to all our employees. We ensure employee salaries are paid 100% on-time. In addition, we monitor Tats for all letter requests, visa processing & cancellations of our employees. We are currently running at less than 24 hours TAT for all letter requests of our employees.