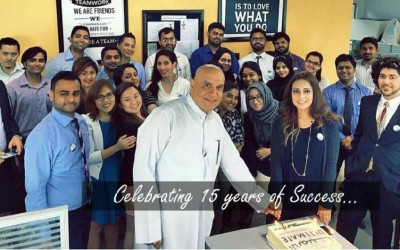 It makes me so proud as a managing director of Ultimate HR Solutions to announce that we (including myself) have crossed another milestone in the history of our company. On the 23rd of April 2016 we completed 15 years as Ultimate HR Solutions. On this occasion, I would sincerely like to thank all our clients, candidates, employees and shareholders for the support and trust they have placed in our company over the years. Without their contribution we would not have a success story to tell. What began as a small firm with just 3 members has risen up to stand tall amongst the business leads of the time with more than 30 employees in house and over 2700 outsourced with our valued clients. Over the period, our company has had innumerable  achievements and accomplishments, especially last year which proved to be our most profitable year in our history. Without the support of our excellent team it would never have been this successful. Every one of you plays a very important role in the development of our company. It is for your enthusiasm, support and dedication that have brought us to this height. Ultimate  shall ever remain indebted to the contributions of its employees and candidates  who are with us today or have served us in the past. This includes our outsourced employees who are our biggest marketing agents. Over the years, we have had over 10 000 outsourced employees who have been a part of Ultimate at some point and are today our spokespeople. We are also grateful to our clients and candidates who trusted in us to help... read more
Abu Dhabi:

1205, Tower B, Al Saman Tower, same as Gift Collection Building, Hamdan Street,
Abu Dhabi – UAE.
Telephone: +971 2 666 2464
Dubai:
201, 2nd Floor, Hilal Bin Taraf Building, Adjacent to Business Bay Metro Station, Sheikh Zayed Road, PO Box 72703, Dubai – UAE.
Telephone: +971 4 343 3737
Fax: +971 4 343 3622
Email:  info@uhrs.ae
ISO 9001 Certified.